TRAINING SCHEDULE
Two daily training sessions combine individual technique and collective play together with matches
LINGUISTIC IMMERSION
One of our objectives is to facilitate the consolidation of the language of the young athletes, living, sharing and training in English
PERSONAL ATTENTION
Our technical team is in charge of the supervision of the athletes 24 hours as well as of all the training sessions
TOURISM IN NYC
Our programme in the USA is completed with tourist, social and thematic activities related to tennis
TENNIS CAMP 2023 FLUSHING MEADOWS (USA)

The participants receive a personalized service emphasizing their technique, method and strategy.
TECHNICAL DIRECTOR
Whitney Kraft
AGES
Boys and girls between 11 and 17 years old
RESIDENCE
Saint Peter's University – Jersey City, NJ – NYC Metro Area
Vanderbilt YMCA – 224 E 47th St, New York, NY 10017
ACCOMODATIONS
All the Tennis Camps in New York are in RESIDENTIAL format
It includes all services (accommodation, sports equipment, transfers, etc.) except flights.
INSCRIPTIONS
Guaranteed places until March the 31st!
Places according to availability as of April the 1st!
DATES
From July 3rd to August 6th, 2022
Every week starts on Sunday and ends on Saturday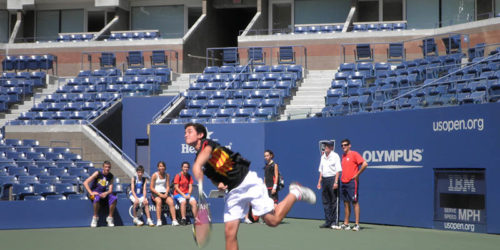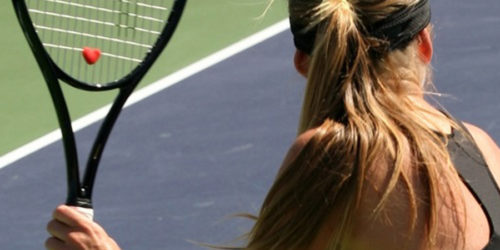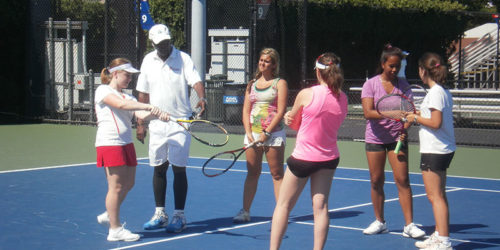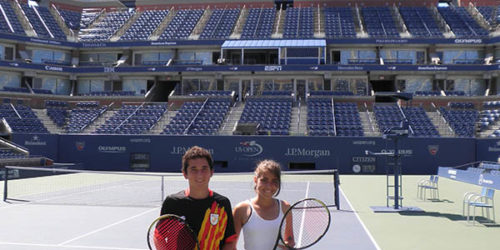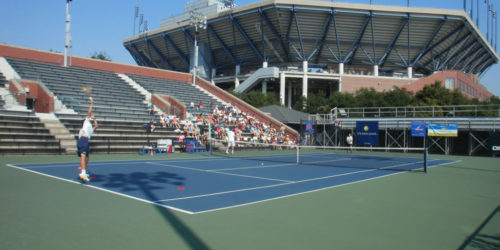 TENNIS EXPERIENCES
Arthur Ashe Stadium, Louis Armstrong Stadium and Hall of Fame
TOURIST VISITS
Nike Town, Macy's Fourth of July Fireworks, Central Park, Empire State Building, Midtown, China Town, Financial District, Battery Park, Statue of Liberty, American Museum of Natural History, Jersey City, BBQ, Gala Dinner…
PRICES
1 WEEK: 1.913,00 €
2 WEEKS: 3.187,00 €
3 WEEKS: 4.466,00 €
4 WEEKS: 5.534,00 €
(flights not included)
WITH THE COLLABORATION OF:

Previous Tennis Offlimits Camps experiences
La nostra primera experiència amb joves al Tennis USA data de l'estiu del 2011. Per això, prèviament havíem establert una col·laboració amb el United States Tennis Associaton (USTA) – Billie Jean King National Tennis Center.
El seu director tècnic Whitney Kraft va ser el nostre punt de referència des del primer moment.
Les intenses setmanes de tennis es duen a terme a les instal·lacions de tennis més grans del món ubicades al Flushing Meadows-Corona Park de Queens, on cada estiu es disputa el prestigiós torneig del Grand Slam, l'US Open. La magnífica instal·lació compta amb 12 pistes indoor, 19 pistes outdoor i 3 pistes als estadis.
En aquest programa els joves esportistes reben un tracte molt personalitzat que té com a objectiu l'entrenament tàctic, tècnic, estratègic i físic.
Els esportistes que s'organitzen per nivells, compten amb un ampli equip d'entrenadors coordinat per Cathie Delaney amb una àmplia experiència en l'ensenyament del tennis. Al llarg de les últimes edicions els nostres tenistes han entrenat amb: Marvin Dent, Danny Casesa, Ilyar Khammadov, Aki Takayama, Reiko Gifforts i Agnes Wiski-Pagnotta.
Cada una de les jornades comença amb la presentació per part del director o de la coordinadora d'un gest tècnic o situació de joc.
La nostra residència en les quatre primeres edicions va ser el Stevens Institute of Technology de la bonica ciutat de Hoboken. El Campus Universitari a la vora del riu Hudson oferia unes vistes de cinema sobre l'Skyline de Manhattan.
Un canvi en la política d'allotjament de menors de l'Stevens Institute of Technology ens va dur el 2013 als magnífics apartaments Riverhouse a Jersey City, localitzats a molt poques illes del riu Hudson i, en conseqüència, davant del Lower Manhattan. Aquesta va suposar una experiència d'allotjament única pels nostres esportistes doncs en Riverhouse Apartments es van trobar com a casa.
A l'edició del 2014 vam tornar a les Residències als Campus Universitaris, en concret al 182 Broadway on es troba el Pace University, en ple Financial District de Manhattan.
En l'àmbit logístic els esportistes, amb la supervisió del nostre staff, es desplacen cada dia des de la residència universitària fins al centre d'entrenament, de Manhattan a Queens en transport públic (metro).
El nostre programa de tennis als Estats Units es completa amb la visita guiada al Hall of Fame, a l'Arthur Ashe Stadium (pista central) i Louis Amstrong Stadium (segona pista) on se celebra el clàssic torneig del Grand Slam – US Open, i molts més altres tours, visites i espectacles com: Macy's Fourth of July Fireworks, Central Park, Empire State Building, Midtown, China Town, Financial District, Battery Park, Estàtua de la Llibertat, American Museum of Natural History, Jersey City, American BBQ, Gala Dinner, Cinema sota les Estrelles…
Aquest programa garanteix la immersió lingüística i cultural dels esportistes per la convivència durant tota la jornada d'entrenaments amb joves majoritàriament nord-americans i entrenadors també nord-americans!
Viu el tennis ofensiu en una de les ciutats més apassionants del món!
Experimenta en primera persona l'estil de vida d'un autèntic New Yorker!
Un programa de somni!