NEW YORK CITY FC & MANCHESTER CITY 2023
TRAINING SCHEDULE
Two daily training sessions combine individual technique and collective play together with matches
LINGUISTIC IMMERSION
One of our objectives is to facilitate the consolidation of the language of the young athletes, living, sharing and training in English
PERSONAL ATTENTION
Our technical team is in charge of the supervision of the athletes 24 hours as well as of all the training sessions
TOURISM IN NYC
This program is completed with cultural, social and thematic activities related to soccer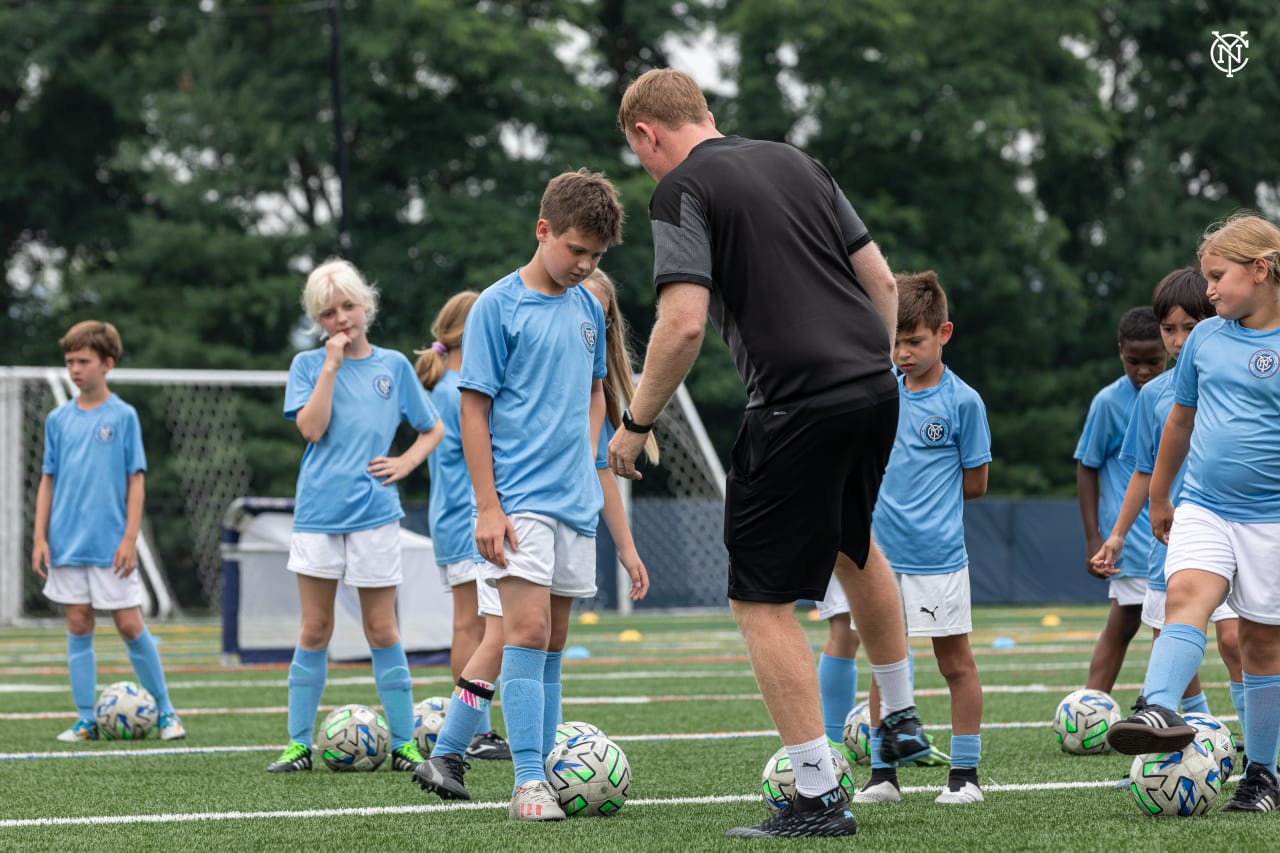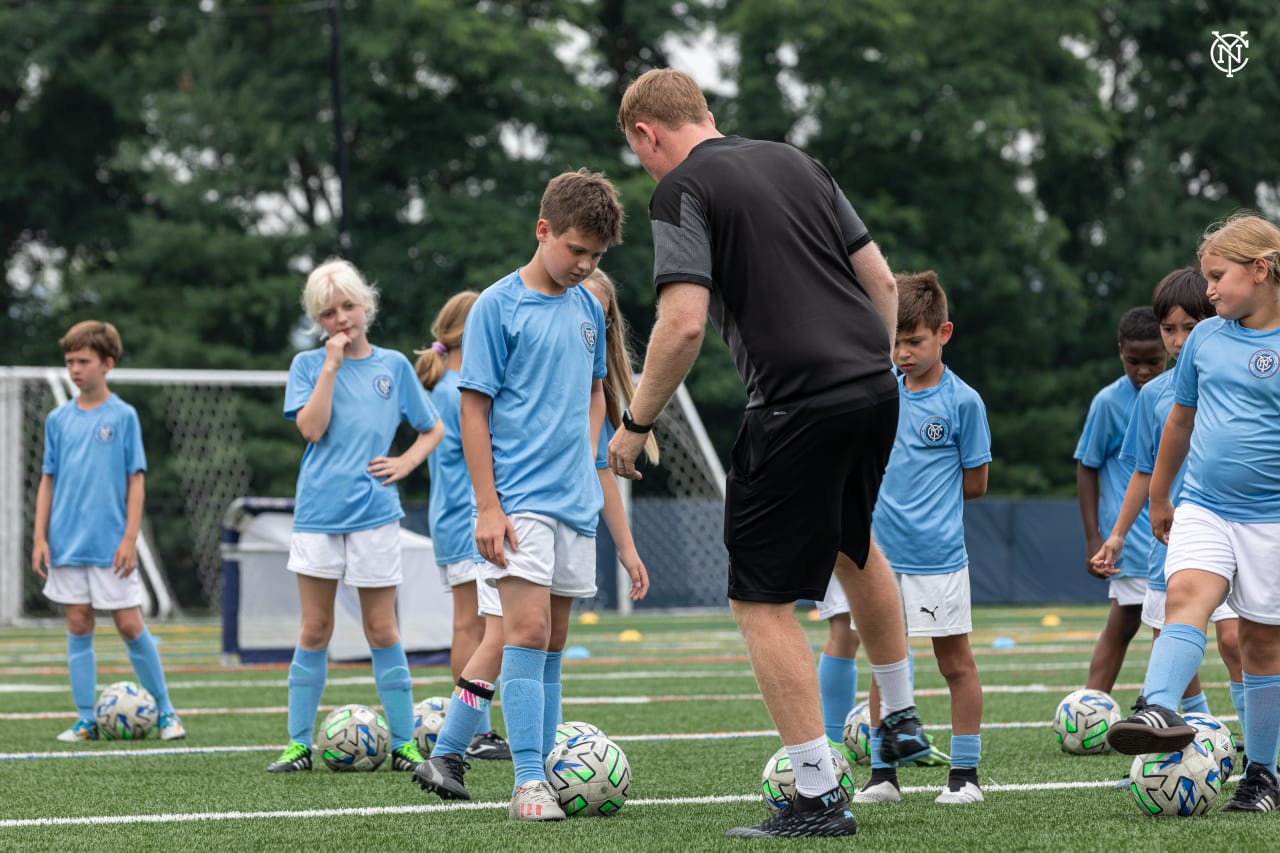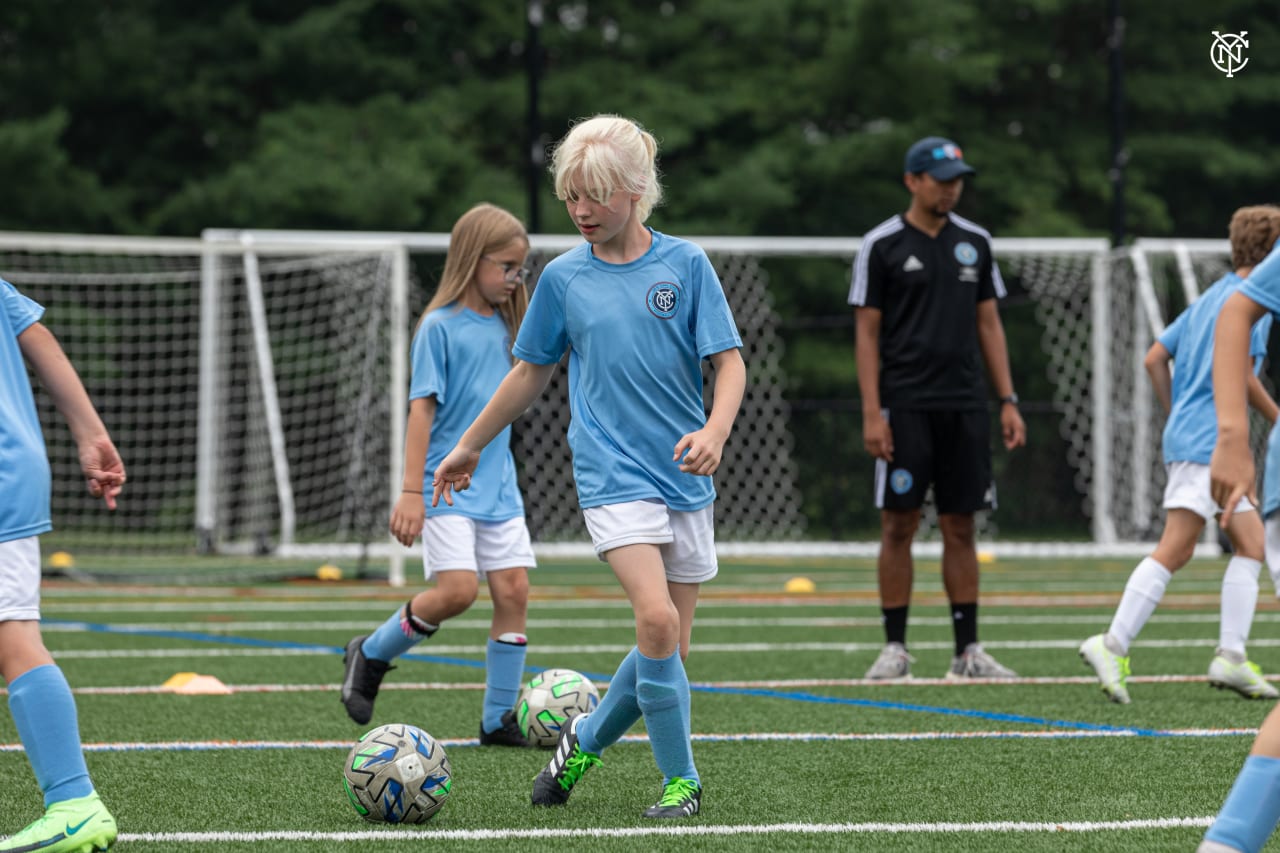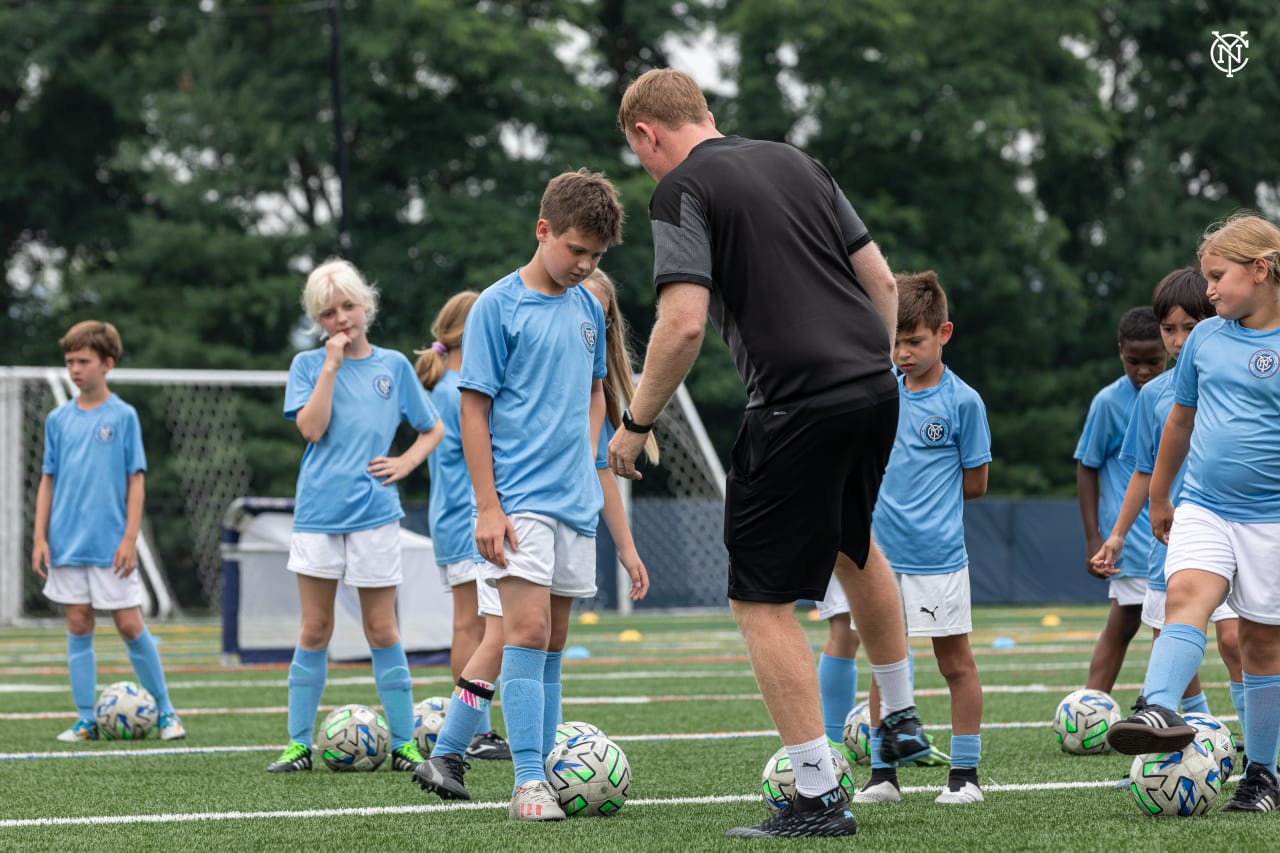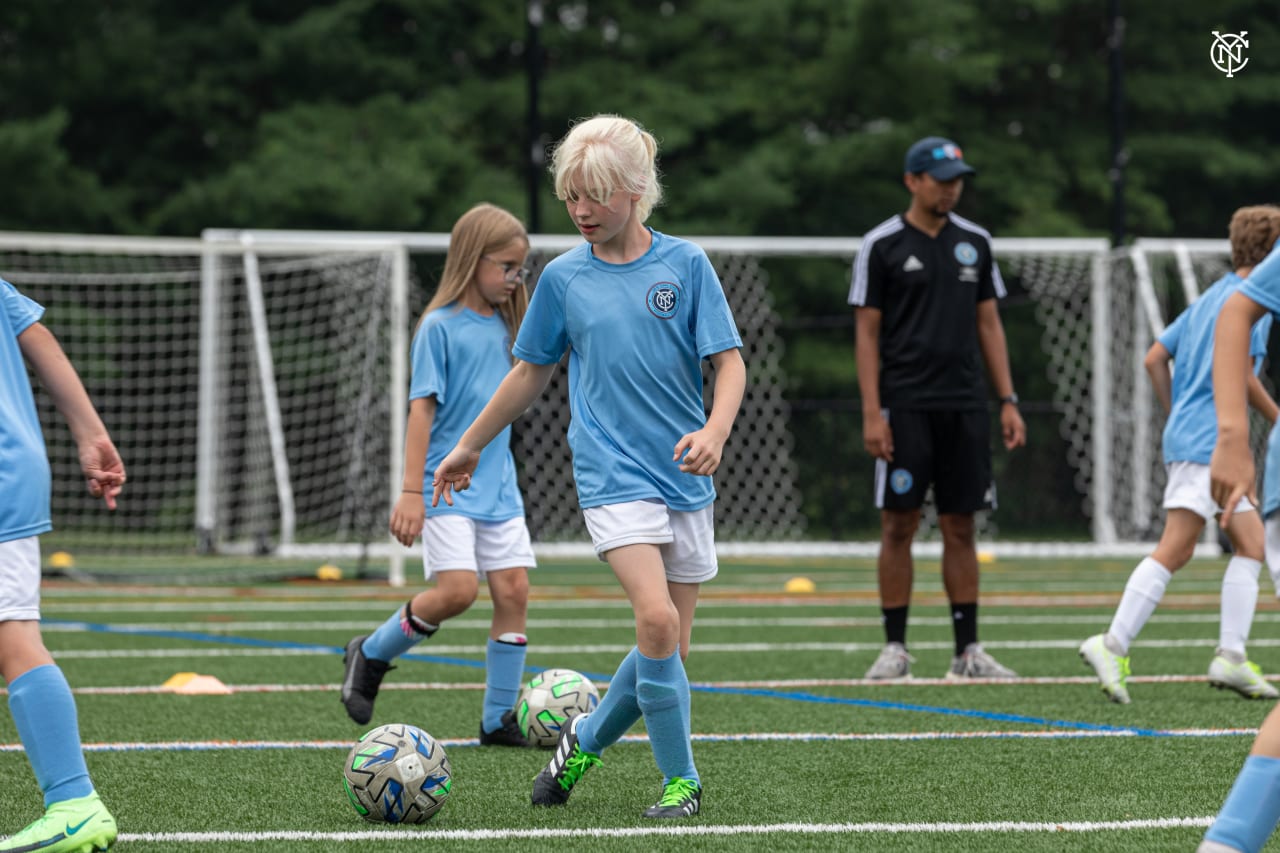 The New York City FC & Manchester City Camp
The program will provide an authentic football experience to players between the ages of 9-15 committed to improving their game. Sessions will challenge players to train and learn through the City Play Model coaching program and will provide insights into our unique playing style – "Beautiful Football". Through the values, attitudes & beliefs of NYCFC and Manchester City, players will be encouraged to play an attractive, technically skilled, and attack-based game.
Practical sessions are delivered to support the development needs of individual players based on age and ability, while also providing insights to all players to help them better understand the positions, roles and responsibilities of City players both on & off the pitch. Players will train in a safe, fun, and positive environment under the guidance of NYCFC Youth Programs and Manchester City coaches from the UK.
Incentives
Coaching delivered by Manchester City & New York City Football Club Youth Programs coaches
Curriculum designed by Manchester City & New York City Football Club
NYCFC – Man City Summer Camp Training Kit (Training Kit includes one NYCFC training top, one Man City training top, one pair of training shorts, one pair of training socks)
NYCFC – Man City Camp Certificate
1 Match Ticket to Camp Reunion Day at Yankee Stadium
NYCFC Player Meet & Greet at Camp Reunion Day
Program Focus
Players will be given a unique and authentic insight into how NYCFC & Manchester City players train and play
We want players to develop a greater understanding of their own game, how to improve further and more understanding of tactics and game situations
By helping players develop a passion for football and a commitment to the game, we want players to make new friends, improve teamwork and continue playing with greater confidence on & off the pitch
DATES
From July 2nd to August 5th, 2023
Every week from Monday to Friday
AGES
Boys and girls between the ages of 8-15
LOCATION
From July 5th to July 7th – Long Island
From July 10th to July 14th – Long Island & Floral Park
From July 17th to July 21st – Long Island & Franklin Square
From July 24th to July 28th – Long Island 
From July 31st to August 4th – Long Island
RESIDENCE
Pace University – One Pace Plaza, New York, NY 10038
Vanderbilt YMCA – 224 E 47th St, New York, NY 10017
DATES
From July 3rd to August 13th, 2022
Every week starts on Sunday and ends on Saturday.
ACCOMODATIONS
All the Soccer Camps in New York City are in RESIDENTIAL format.
It includes all services (accommodation, meals, sports equipment, daily transfers – also to and from the airport – , sightseeing, 24 hours care, etc.) except flights.
WALKING TOURS AND SIGHTSEEING
Central Park, Empire State Building (or similar), Bryant Park, Times Square, Rockefeller Center, China Town, Financial District, Battery Park, Statue of Liberty, American Museum of  Natural History, Jersey City, BBQ, Gala Dinner, …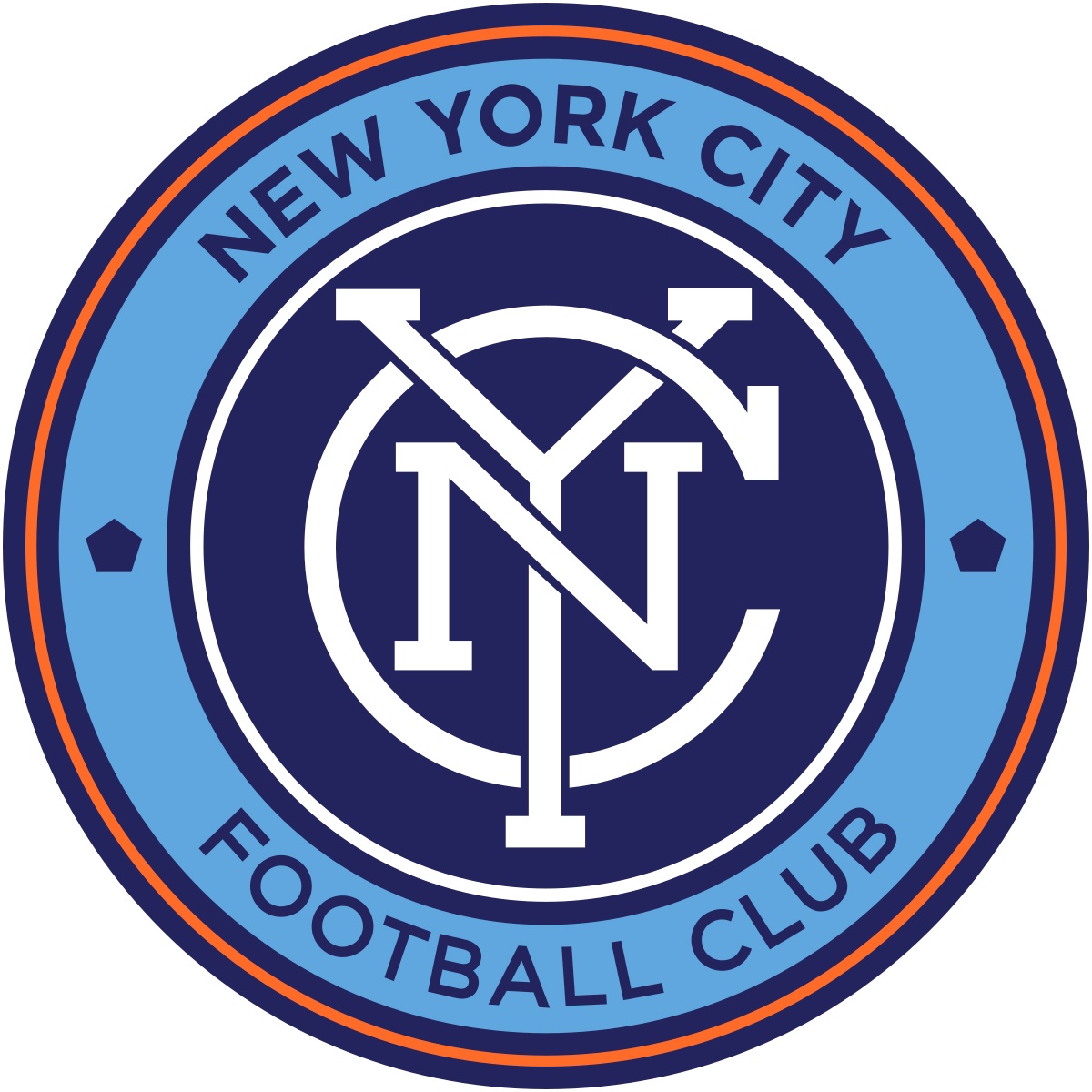 About NYCFC
New York City Football Club is a professional soccer club that compite in the Major League Soccer (MLS), the most important competition of Soccer in the USA. The team is part of the City Football Group, a group of companies created to supervise the management of a network of football clubs. The football clubs that are part of the group are: Manchester City FC of the Premier League; the Melbourne City FC of the Australian A-League and the MLS New York City Football Club. Also Girona FC of Spanish La Liga is part of the group since 2017.
In the NYCFC has played some of the most important players around the world, like David Villa, Andrea Pirlo or Frank Lampard.
About Manchester City
Manchester City FC is a professional soccer club that compite in the Premier League, one of the most important competitions of Soccer in Europe.
2 WEEKS
to choose
3.187 €
3 WEEKS
to choose
4.466 €
4 WEEKS
to choose
5.534 €
Previous Soccer experiences
Our first "Soccer Made in the USA" program took place in the summer of 2014. We organized a soccer program in New York City together with the prestigious soccer school, the Manhattan Kickers Football Club.
With kids, MKFC's philosophy is based on developing and improving their technical skills and team play. That's why we offer personalized coaching for different positions, culminating in real game situations designed to stimulate players' decision-making when searching for the best technical, tactical, or strategic option: what's known as smart play. All training exercises and games are carried out with the ball – the main source ofmotivation for soccer players the world over. Evan Rosenthal and Héctor Nuñez share the role of Technical Director at the MKFC camp which is a fusion of both the American and European school, ensuring that innovative and highly efficient methods are adopted in developing players of this world class sport.
The camp is held at Pier 40 Fields in Hudson River Park, Manhattan. The campers' accommodation is located at 182 Broadway, the home of Pace University and in the heart of Manhattan's financial district, making the daily journey from the university accommodation to the training centers under the supervision of our staff; in this case on public transport (subway).
Our NYC soccer program also includes tours, visits and shows such as: Macy's Fourth of July Fireworks, Central Park, Empire State Building, Midtown, Chinatown, Financial District, Battery Park, Statue of Liberty, American Museum of Natural History, Jersey City, American BBQ, Gala Dinner and outdoor movies.
This program ensures youngsters are immersed in both the language and culture of the USA and campers spend entire training days alongside coaches and youngsters, almost all of whom are North American! Experience soccer in one of the most exciting cities in the world. Live like a real New Yorker! A dream program!